Illuminate Adelaide
Illuminate Adelaide celebrates art, light, sound and technology through a range of installations and displays scattered throughout the CBD of Adelaide, South Australia. This annual event is held in July, presented by both local and international artists and companies.
In addition to light installations, there are plenty of cultural offerings around the city as part of this Winter festival. Featuring AI-driven, multisensory pop-up experiences, the Van Gogh Alive tribute, Light Creatures at the Adelaide Zoo, live music, enchanting lights in the Adelaide Botanic Gardens and more, Illuminate Adelaide has become a cultural focal point for South Australia. This year, the spectacular Winter Lights Festival attracted more than 1.2 million attendees, bringing a much-needed economic boost to the local economy off the back of COVID-19 lockdowns and travel restrictions.
I LOVE ADELAIDE
The University of Adelaide's North Terrace Campus transformed into a kaleidoscope of colour, light and imagination for Illuminate Adelaide. A giant snow globe referred to as the 'I LOVE ADELAIDE' installation, lit up the lawns of the university campus. This stunning display was curated by French architect-designer Jacques Rival, with his trademark sense of dream and wonder on full display whilst paying homage to the wonderful city of Adelaide. Nearby the Sir Thomas Elder Statue, the giant snow globe featured a neon sign illuminating "I LOVE ADELAIDE" with a stream of snow cascading around it.
Illuminate Adelaide reached out to Fanquip with specific requirements needed to bring the I LOVE ADELAIDE installation to life. Fanquip supplied a Centrifugal Blower to help inflate the snow globe, while the Axial Fans were used to create the snow effect. The Centrifugal Blower was utilised for aeration, creating a lightly pressurised air pocket, inflating the snow globe. Whereas the Axial Fans helped to push air and imitation snow around the inflated snow globe, helping to bring Jaques Rival's innovative and artistic vision to life. 

Fanquip

Axial Fans
Fanquip's Axial Fans range in sizes from 300mm to 2200mm and are proudly made in Australia at our Manufacturing Hub in Prestons, Sydney. Our Axial fans are suited for applications that require a volume of air to be moved over a long distance, using blades to push air directly ahead. Fanquip's Direct Drive Axial Fans have their motor connected to the shaft or fan axle, enabling the fan blades to rotate as fast as the motor does. All Axial Fans were fitted with Variable Speed Drive (VSD) controls, wire guards and rolled flange with drilled holes for easy installation. VSD controls help to accurately control pressure, flow and temperature whilst ensuring reliability.  
Benefits of our Direct Drive Axial Fan include:
Australian made
Hot dipped galvanised steel
Heavy duty industrial rolled casing
External junction box
Intrinsically safe motors
Hazardous location rated (flameproof)
Dust and hose proof IP66 motors
Aerodynamic belt tube
300mm – 2200mm diameter size options
Motor power from 0.37kW – 22kW
Air volume – 654 litres per second – 55,440 litres per second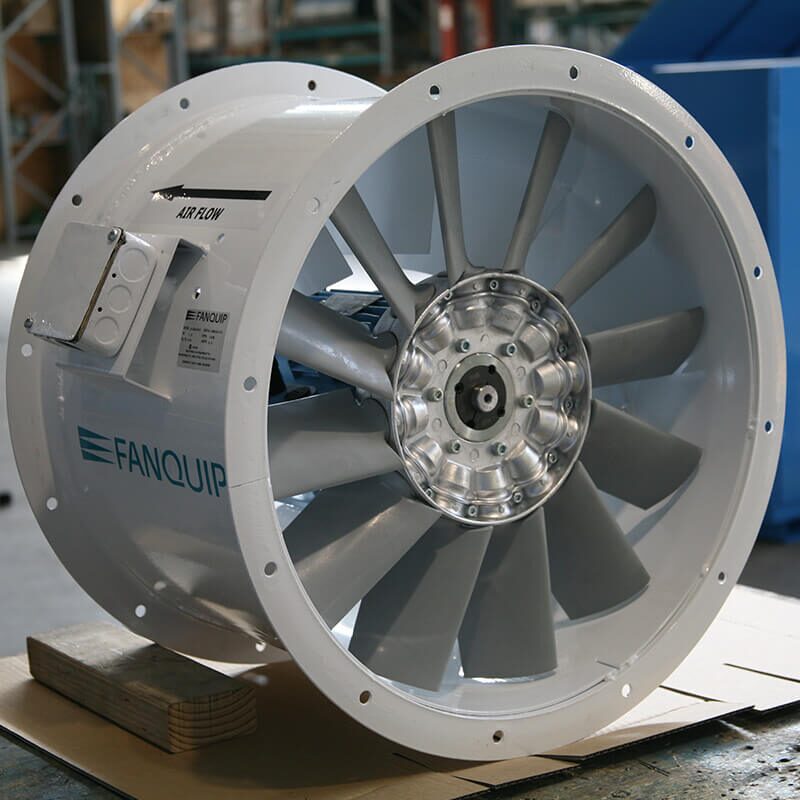 We offer a range of Australian-made Axial Fans available to purchase online. If you are looking for a custom solution or more information, contact a Fanquip ventilation specialist today.